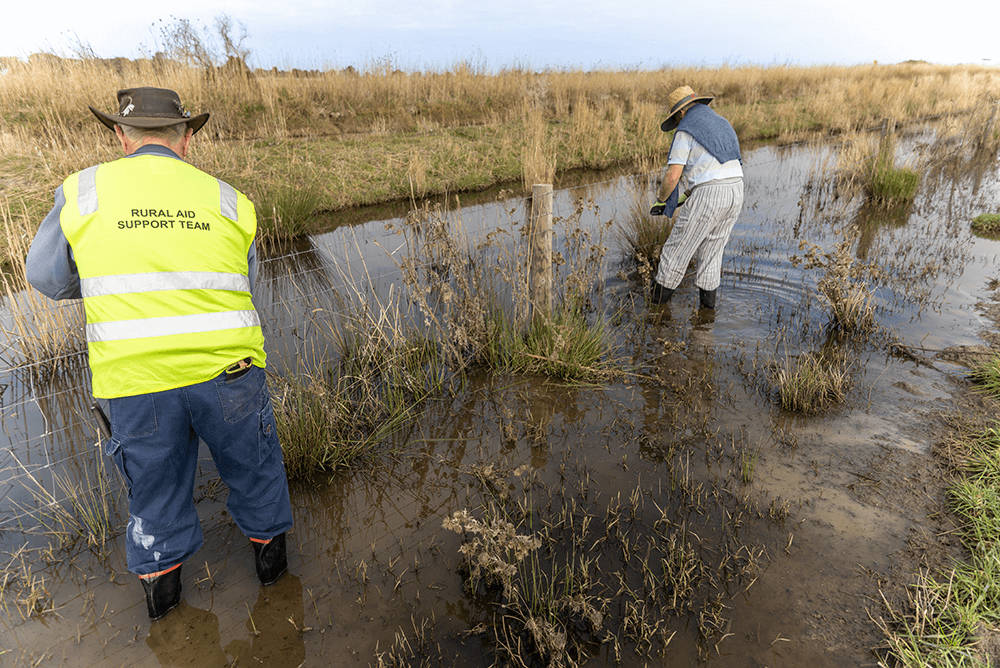 Australia's most trusted rural charity has just wrapped up a week of flood recovery works in Kerang, Victoria.
22 Rural Aid volunteers worked on six flood-affected farms last week.
Cattle farmer Ian Kidman was evacuated off his property and prevented from returning for six weeks during last year's flood.
"We had to sell our breeding stock…and now we've only got the remnants of what we did have."
The volunteers waded through stagnant water to get the fencing jobs done across the district.
Six months on from the flood, farmers are still pulling fish carcasses, branches and rubbish off their fences.
Many farmers had more than a metre of water over their properties, resulting in stock, crop and infrastructure losses.
"Having some Rural Aid volunteers here to clear some of the debris off the fence and to straighten that fence up will be a huge difference for us," Kerang farmer Dale Trevorrow said.
Rural Aid Works Coordinator Lindsay Drust said farmers are still feeling the impacts of the late 2022 flood event.
"With the amount of work that is required [to fix the fences], local contractors just can't keep up with it. So Rural Aid volunteers are here doing predominantly fencing on six different farms."
Most of the dedicated volunteers travelled hundreds of kilometres to Kerang, with some coming as far as Queensland for the Farm Recovery Event.
"There's a lot of satisfaction for the volunteers to help people who are struggling," Lindsay said.
Volunteer Peter Holland was one of the Rural Aid volunteers who helped Ian fix his fencing.
"He's had some cows getting out onto the highway which has been causing a problem, so we've been fixing that fence up, repairing and re-tensioning and trying to make the property secure again," Peter said.
Ian said, "It can get quite expensive if your cattle get out on the highway, so we're doing our best to get that patched up, thankfully. They're doing a good job."
The week officially began on Monday, 22 May with volunteers staying at the Kerang Turf Club.
Catering was provided by a number of local community groups and Rural Aid.
Supplies were sourced from local Kerang businesses.
About Rural Aid
Rural Aid is Australia's most trusted rural charity. We stand with our farmers when they need us most. Rural Aid provides critical support to farmers affected by natural disaster through financial, wellbeing and fodder assistance. Rural Aid's community programs help create more sustainable communities by building stronger futures for all Australian farmers. Find out more at www.ruralaid.org.au

For more information or interviews, contact Rural Aid media on media@ruralaid.org.au or 0447 116 757.