Texas QLD farmers to receive 272 bales of hay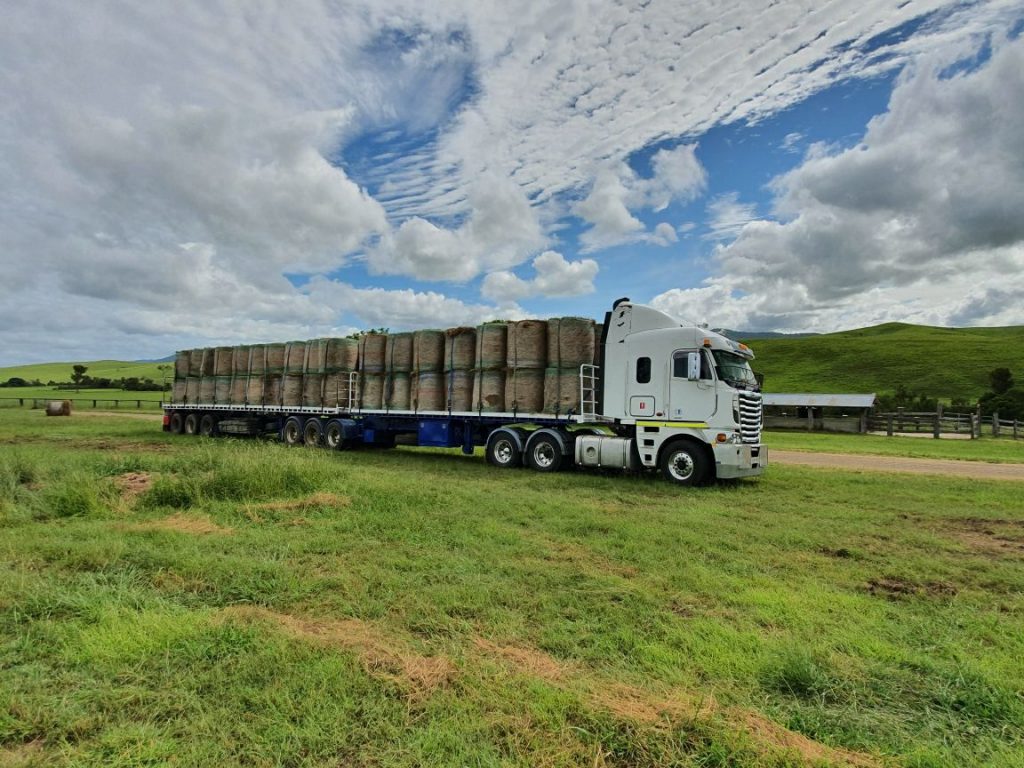 Four Rural Aid B-double trucks loaded 272 bales of hay are on their way to Texas, Queensland farmers
WHERE: Mingoola Road, Texas Queensland
WHO TO: 24 local farmers
DATE: Friday, 6 March 2020
TIME: 10am
CONTACT: Communication and Media – Raylee Huggett 0447 116 757
ON-SITE CONTACT: John Warlters – Rural Aid CEO – 0409 618 641
Neil Badcock – Director N Badcock Foundation – 0411 872 758
Jane McCollum – Rural Aid Counsellor – 0428 237 743
---
Four Rural Aid B-double trucks loaded with 272 bales of hay will roll into Texas on Friday, 6 March 2020, bringing relief to 24 local famers.
The Texas hay drop is thanks to the generosity of Neil Badcock and his N Badcock Foundation from the Sunshine Coast who has generously donated, overall, $100,000 to assist our Aussie farmers. Neil, a former farmer, started the N Badcock Foundation to help people in need.
Rural Aid's Chief Executive Officer John Warlters thanked Mr Badcock and his Foundation for their generosity in supporting our Aussie farmers experiencing hardship caused by our natural disasters.
"It's the support and generosity of everyday Aussies such as Neil, through the N Badcock Foundation, that enables Rural Aid to assist farmers and their communities as they experience hardship brought on by natural disasters such as drought, fire and floods," John said.
"As we welcome this wonderful rain bringing relief to many on the land, we must remember that the country is still so dry and it will take long-term soaking rain to replenish soil moisture, dams and rivers to enable quality feed for livestock to grow again.
"Today, Neil's foundation has ensured that 24 Texas farmers can continue to feed their livestock by giving them a hand-up of hay. I look forward to continuing this relationship with Neil, in whatever capacity he and his Foundation decides, to assist our Aussie farmers."
Rural Aid Counsellor, Jane McCollum, will also be on-hand to speak to at the Rural Aid Texas hay drop.
The hay drop is being hosted by local farmer, Tim White who has a property in Texas which is being used for easier access for the other farmers to receive their hay.
About Rural Aid
Rural Aid is one of Australia's largest rural charities. Well known for the highly successful 'Buy a Bale' campaign, the charity also provides financial assistance, water and counselling to farmers in times of drought, flood or fire. Other initiatives support its vision that farming and rural communities are safeguarded to ensure their sustainability both during and after these natural disasters. Visit www.ruralaid.org.au for further information on these programs and other support for our rural communities. Visit Rural Aid's Snapshots for the latest assistance statistics on how you, our donors, have helped our Aussie farmers and their communities.
Keep up to date on Rural Aid's latest news on: