SYDNEY'S NEW LIGHT RAIL LAUNCH WEEKEND SUPPORTING DROUGHT AND FIRE AFFECTED FARMERS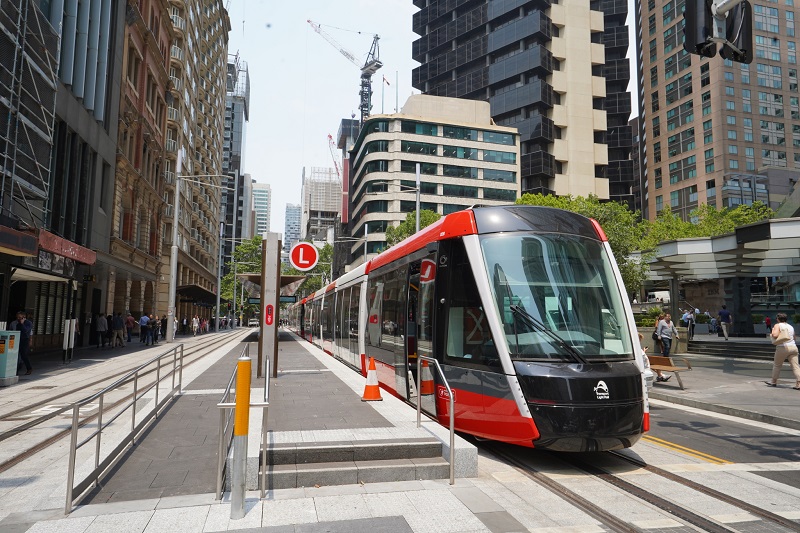 This weekend, as the CBD and South East Light Rail opens to the public between Circular Quay and Randwick, Rural Aid is partnering with Transport for NSW to urge Sydney commuters to support their rural neighbours.
The opening weekend, 14th and 15th December, of the new Sydney light rail services will be fare-free and a large number of customers are expected to try the new service. Volunteers will be collecting donations for Rural Aid at the Circular Quay, Wynyard, Town Hall and Central Chalmers Street light rail stops to support NSW farming families. Funds raised will go towards supplying NSW farmers with hay, fresh drinking water and financial assistance.
With over 11,500 farmers registered with Rural Aid, and more than half of them located in NSW, the charity is being inundated with requests for help from farmers across the state who have run out of water, and lost pasture in recent bushfires. The tragic bushfires, as well as 100% of NSW being drought declared, has meant a big increase in farmers putting their hands up to ask for help. In November, the charity had over 1100 farmers register for aid.
Wayne Thomson, Rural Aid National Business Development Manager, said that it's getting closer to the time when farmers have to make the life-changing decisions on what stock to keep and for some, whether or not to walk away from their farm.
"A lot of farmers have talked about January being the line in the ground and they're more willing to put their hands up to ask for help. They are turning to us to stretch out an existence for as long as they can, hoping it will get them through to the end of what is a record breaking drought and added to this, the Bureau of Meteorology declaring Spring 2019 as the driest on record," Wayne Thomson said.
"The well-anticipated launch of the new light rail presents a fantastic opportunity for Sydney commuters to support farmers suffering current drought and bushfire conditions on the land, and show their rural cousins that they care. We are very grateful to Transport for NSW for inviting us to be part of such a big milestone moment for the city and look forward to meeting hundreds of thousands Sydneysiders during the launch weekend."
Over 100 Transport for NSW staff are volunteering their time during the launch weekend to collect funds for NSW farmers. They will be stationed at Circular Quay, Wynyard, Town Hall and Central Chalmers Street light rail stops, equipped with 'Tap & Go' EFTPOS machines. Commuters will be encouraged to make a donations using credit card, PayPal or 'Apple Pay', or by donating online at www.ruralaid.org.au.
Minister for Transport Andrew Constance encouraged those intending on riding a tram to make a donation.
"This is a fare-free weekend so please give what you can to support NSW farmers," Minister Constance said.
"While opening this new public transport service is exciting for the city we know drought and fires have made life tough for those in those in the bush, this is a good opportunity to get behind the communities impacted."
About Rural Aid
Rural Aid is one of Australia's largest rural charities. Well known for the highly successful 'Buy a Bale' campaign, the charity also provides financial assistance, water and counselling to farmers in times of drought, flood or fire. Other initiatives support its vision that farming and rural communities are safeguarded to ensure their sustainability both during and after these natural disasters. Visit www.ruralaid.org.au for further information on these programs and other support for our rural communities.
ENDS


Media enquiries: Raylee Huggett – 0447 116 757