SHARE A MESSAGE OF HOPE WITH OUR AUSSIE FARMERS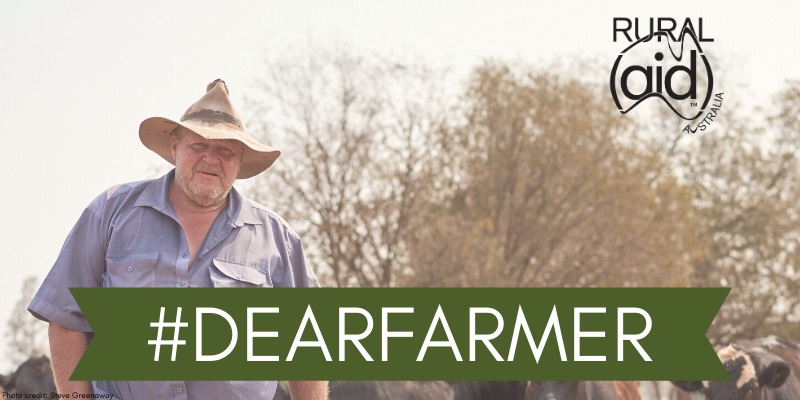 For many farmers, tough times continue, but we can still share hope
Drought, fires, floods and now the impact of COVID-19 restrictions. Many of our Aussie farmers have experienced more than one of these in the past six months and for some a mix of all.
While uncertainty has been on the peripheral for many, so that our farmers know that they haven't been forgotten during these times, Rural Aid has launched #DearFarmer letters where people can share a digital message of hope with a farmer. And, the Community Builders webinar series is proving a great support for rural communities too.
Rural Aid CEO John Warlters said it was more important than ever to acknowledge that farmers really are the backbone of our communities and, to express gratitude for the food we so readily find on our plates.
"We'd like to show our farmers and rural communities that we see and value them especially in uncertain times. Over Christmas 2018, we sent over 3000 letters written by school children to our farmers," John said. "Some were written in crayon, others covered in glitter, but all had the same heartfelt message – letting farmers know how much they are appreciated."
"The response from farmers was incredible. Many spoke of the tears they shed reading their letters and their gratitude to the many school children who were thinking of them.
"This year, we've taken this incredible initiative digital so, we can reach as many people as possible to send letters of hope.
"As we experience challenging times, our farmers continue to put food on our tables. Panic buying may put strain on our supply chains, but our farmers continue to have our backs by supplying beautiful Australian produce.
"We're asking Australians of all ages to show their Aussie spirit and share a note of hope on their favourite social media channel with a farmer going through tough times rebuilding after fires, flood and drought.
"We can't make it rain, but we can take a moment to sit down and write a note, or draw a picture, for our farmers."
To get involved and share your message of hope with our Aussie farmers, just go to www.ruralaid.org.au/write-dearfarmer-letter/ and:
Share a virtual message with our farmers by using the hashtag #DearFarmer – don't forget to tag @ruralaid.
Write a digital letter and post on our #DearFarmer wall.
Businesses can get involved by sharing the Dear Farmer page with their employees or by getting in touch with Rural Aid directly.
About Rural Aid
Rural Aid is one of Australia's largest rural charities. Well known for the highly successful 'Buy a Bale' campaign, the charity also provides financial assistance, water and counselling to farmers in times of drought, flood or fire. Other initiatives support its vision that farming and rural communities are safeguarded to ensure their sustainability both during and after these natural disasters. Visit www.ruralaid.org.au for further information on these programs and other support for our rural communities.
Visit www.ruralaid.org.au/snapshots for Rural Aid's latest assistance statistics.
Media: 0447 116 757 | media@admin.media.ruralaid.org.au
Spokesperson: Rural Aid CEO John Warlters | 0409 618 641