Rural Aid Volunteers Lend a Hand in Flood-ravaged Eugowra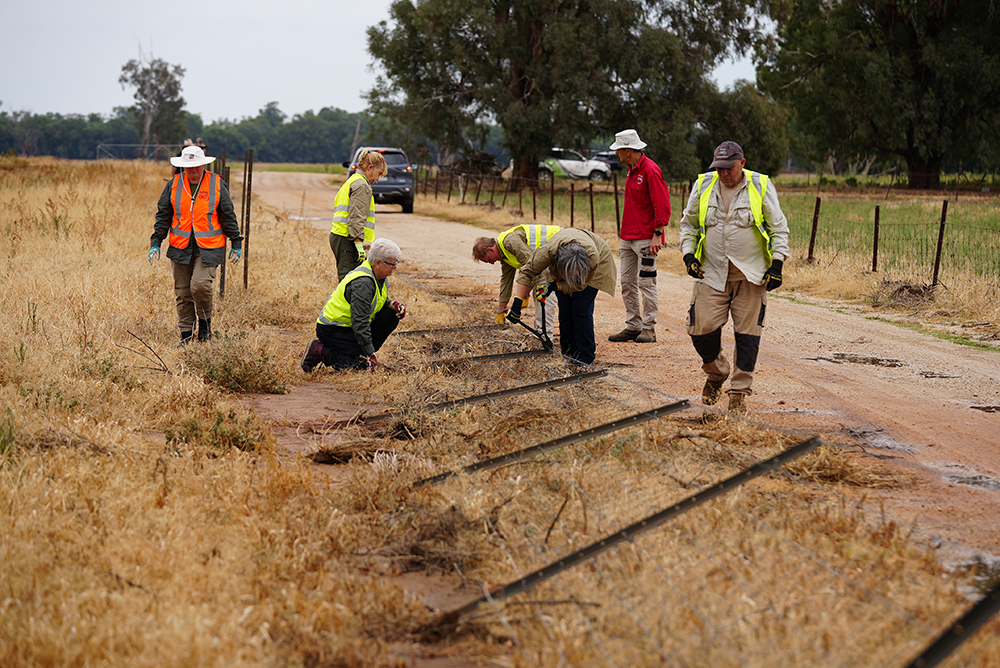 Flood-affected farmers in New South Wales' Central West region have had their recovery efforts boosted, thanks to a visit from Rural Aid volunteers.
Twenty-five Rural Aid volunteers have spent a week helping five Eugowra farmers, following the terrifying floods that swept the region late last year.
Eugowra farmer Ray Townsend's family has been farming on this land for more than 120 years.
"It's hard to explain how bad the floods were. They were bigger than anything I've seen in my lifetime. My father told me stories from when he was a boy, but to see this devastation with my own eyes is shocking," he said.
A team of Rural Aid volunteers have helped Ray fix hundreds of metres of fencing on his family farm; a job that's still overwhelming, three months on.
"The further we go into it, the more we realise the repair work we have to do.
"It's been absolutely fantastic the support we've been shown. Thank you very much to everybody who's attended," Mr Townsend said.
Farmer Dave Herbert also lost a significant amount of his fencing and cropping assets.
"In 2022, we had three flood events in four to five weeks along the valley. Every one of those events was larger than the one before."
Mr Herbert was grateful for the help the Rural Aid volunteers provided.
"The thing that they bring, apart from the hard work they've put in particularly with the fencing, is actually that community aspect. You know that you've got people out there who care about what's happened to you and it restores a bit of faith in what you are trying to do."
Grant Miskimmin, Rural Aid's Farm Co-ordinator, said the average age of Rural Aid's volunteer force was 68 years old.
"These volunteers are from all over the country, they are an amazing bunch," he said.
"They travel thousands of kilometres to help out and come with an amazing set of skills."
Rural Aid CEO John Warlters said several Central West graziers were this week gifted lick blocks and hay bales, thanks to the generosity of the Australian public, and support of innovative lick block manufacturer AgCoTech.
"Seven farmers picked up their hay bales today and five farmers received a pallet of lick blocks each on Tuesday," Mr Warlters said.
"Rural Aid has also been able to help the region's farmers with financial assistance and free mental health counselling. Rural Aid is committed to standing with our farmers when they need it most to help get them back on track after a disaster."
"A huge thanks must go to our donors, who make these big volunteer weeks possible through their generosity.
"Thank you also to Newcrest Mining who provided several hard-working volunteers this week," Mr Warlters finished.
Farmers are encouraged to register with Rural Aid at www.ruralaid.org.au/services-provided.
Donations to Rural Aid can be made at www.ruralaid.org.au/donate.
For more information or interviews, contact Rural Aid media on media@ruralaid.org.au or 0447 116 757.  
About Rural Aid
Rural Aid is Australia's most trusted rural charity. We stand with our farmers when they need us most. Rural Aid provides critical support to farmers affected by natural disaster through financial, wellbeing and fodder assistance. Rural Aid's community programs help create more sustainable communities by building stronger futures for all Australian farmers. Find out more at www.ruralaid.org.au