RURAL AID SPENDS OVER $10.7M IN ASSISTANCE FOR FARMERS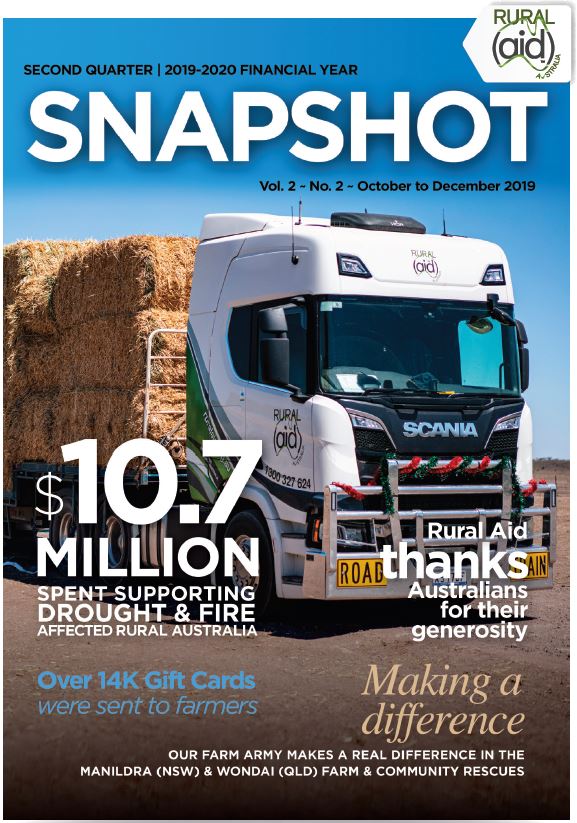 Over 12K farmers and their communities receive drought and fire assistance
Today, Rural Aid released its latest quarterly Snapshot figures outlining the charity's assistance to farmers and their rural communities for October to December 2019 – www.ruralaid.org.au/snapshots.
Rural Aid CEO, Sarah Hunter said between October and December 2019, Rural Aid delivered just under 10,000 large bales of hay worth $4.17 million to 994 farmers through 96 locations which were drought-affected, bushfire-affected, or both.
Over this same period, over 12,000 farmers registered with Rural Aid received over 14,000 gift cards, valued at $3.75 million. Many received the gift cards just in time for Christmas and were able to spend them in their communities, supporting local economies.
"It's the support and generosity of everyday Aussies and our corporate sponsors that enables Rural Aid to assist farmers and their communities through our various programs and initiatives," Sarah Hunter said.
"Last quarter we spent $504,000 delivering 269 truckloads of domestic drinking water to 1349 farmers and their families. Our Farm and Community Rescue team of Rural Aid staff and Farm Army volunteers were in Manildra NSW and Wondai Queensland bringing much-needed assistance on many levels as they worked on 12 farms and 14 community projects.
"This record-breaking drought and now these fires take their toll on the land, and on the people who live and work there. Our counsellors contacted 1310 farmers, had 95 face-to-face counselling sessions and 464 phone counselling sessions."
Rural and remote children and their schools have also been assisted through the Gift of Music program with over 536 instruments, valued at $249,000, delivered to 48 schools, benefiting over 10,000 students. Many of these children would not have these opportunities.
"Over the 18 months to December 2019, Rural Aid has distributed $45 million in assistance to farmers and their communities, leveraging our proven delivery model for drought and now fire-affected farmers," Sarah Hunter said. "Added to this, Rural Aid has already committed over $10 million to drought affected farmers, including the proceeds of December's Hay Mate concert."
To help us to continue to deliver this much needed aid to our farmers, their families and their communities, please support Rural Aid's 'Buy a Bale' program by donating at www.buyabale.com.au/donate.
About Rural Aid
Rural Aid is one of Australia's largest rural charities. Well known for the highly successful 'Buy a Bale' campaign, the charity also provides financial assistance, water and counselling to farmers in times of drought, flood or fire. Other initiatives support its vision that farming and rural communities are safeguarded to ensure their sustainability both during and after these natural disasters. Visit www.ruralaid.org.au for further information on these programs and other support for our rural communities.
Media enquiries: Raylee Huggett – 0447 116 757
Media spokesperson: Rural Aid Interim CEO, Sarah Hunter – 0421 943 683