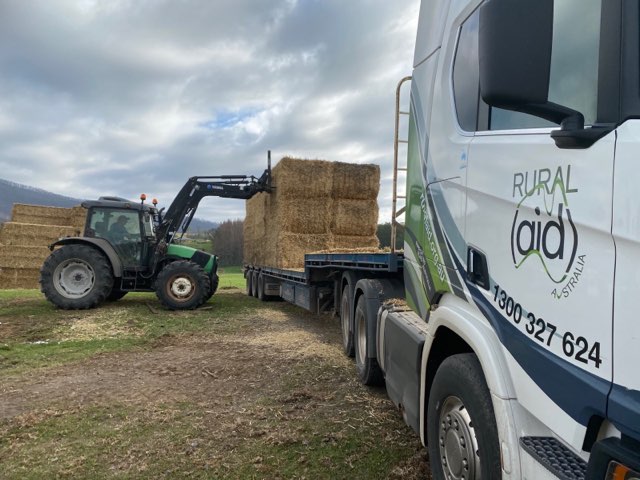 WHERE & TIME WEDNESDAY 16 SEPTEMBER:
10am Cooma Saleyards -12 Saleyards Road, Cooma NSW
1pm Willow Glen farm (John Teschke) – 150 Browns Camp Rd, Delegate NSW – 6 farmers
2.30pm Woodborough farm (Ron Reed) – 981 Corrowong Rd Delegate NSW – 6 farmers
WHERE & TIME THURSDAY 17 SEPTEMBER:
1pm Undowah farm (Andy Murdoch) – 54 Poddy Hut Rd, Bibbenluke NSW trucks arrive, and farmers arrive at 2.30pm to pick up the hay – 8 farmers.
WHO TO:
6 local farmers at each of the Delegate drops on Wednesday
8 local farmers at the Bibbenluke drop on Thursday
CONTACT: Rural Aid Media – 0447 116 757 | media@admin.media.ruralaid.org.au
ON-SITE CONTACT: Rural Aid Counsellor Gary Bentley | 0499 527 327
Rural Aid will make five drops to deliver 425 large bales of hay on the back of 10 trailers to 32 drought affected farming families in the Cooma NSW area, on Wednesday 16 and Thursday 17 September 2020.
Rural Aid CEO John Warlters said this generous donation of 277 tonnes of hay, made possible thanks to Bushells and our everyday Aussie donors, will go a long way to help make life a little easier for the farmers and their families struggling to feed livestock in this disaster impacted area.
"Our farmers are going through challenging times," John said. "They've been impacted by one of the longest droughts in recent history, followed by fires and in some areas, floods, that devasted the land, people, livestock and homes. Now they are dealing with the impact of current restrictions. It may not be obvious to all but for many NSW farmers affected by natural disasters, the impact is very real.
"In some areas, rain has been welcomed but will only make a tangible difference short term. For others, a lack of rain has meant that restocking or planting a crop isn't an option and, that stock feed is in short supply across winter months.
"To further assist our Aussie farmers, Rural Aid Counsellor Gary Bentley will be on hand to catch up with our farmers."
Located in the Snowy Mountain region, Cooma is about 114 kilometres south of the nation's capital. It was once the hub of construction for the Snowy Mountains Scheme and is now the gateway to the Snowy Mountains snow fields. The Cooma area is also known for its cattle and sheep farms, that have also been impacted by drought, fires and floods
"Transport continues to be an essential service during these current restrictions, by leveraging Rural Aid's proven delivery model we are able to continue to support farmers to feed their livestock, thanks to the generosity of our donors," John Warlters said.
The five drops on Wednesday, 16 September and the Thursday, 17 September include Bombala, Cooma, Bibbenluke and two at Delegate. On Monday, 14 September 2020, Rural Aid delivered 168 bales of hay in Cooma area to 14 farmers in Lochiel, Nimmitabel and Bodalla of NSW.
Assisting farmers and their communities
John Warlters also added that just like any other business through this COVID period, Rural Aid is pivoting and finding ways to navigate restrictions so the charity can deliver on the ground for farmers.
"Obviously, under slightly reduced capacity but thanks to our drivers and operations team, we're continuing to deliver for our farmers," John Warlters said.
"Week in week out, hay is on the agenda as we help farmers manage through drought and restock after bushfires and floods.
"We are also recognising a greater need for our services than ever before and as we add international trade repercussions to the mix, we expect that need to grow.
"We've also found unique ways to stay connected with farmers and rural communities through our counsellors – Gary Bentley's column published fortnightly in regional and rural newspapers.
"We are also continuing to support our farmers with financial assistance."
END
About Rural Aid
Rural Aid is one of Australia's largest rural charities. Well known for the highly successful 'Buy a Bale' campaign, the charity also provides financial assistance, water and counselling to farmers in times of drought, flood or fire. Other initiatives support its vision that farming and rural communities are safeguarded to ensure their sustainability both during and after these natural disasters. Visit www.ruralaid.org.au for further information on these programs and other support for our rural communities.
Spokespeople: Rural Aid CEO John Warlters | 0409 618 641
Follow Rural Aid for updates on:
Rural Aid – FB: @ruralaidaustralia | IG: @ruralaid | IN: Rural Aid Ltd | TW: @ruralaidaust
Buy A Bale – FB: @buyabaleofhay | IG: @buyabale | TW: @buyabale