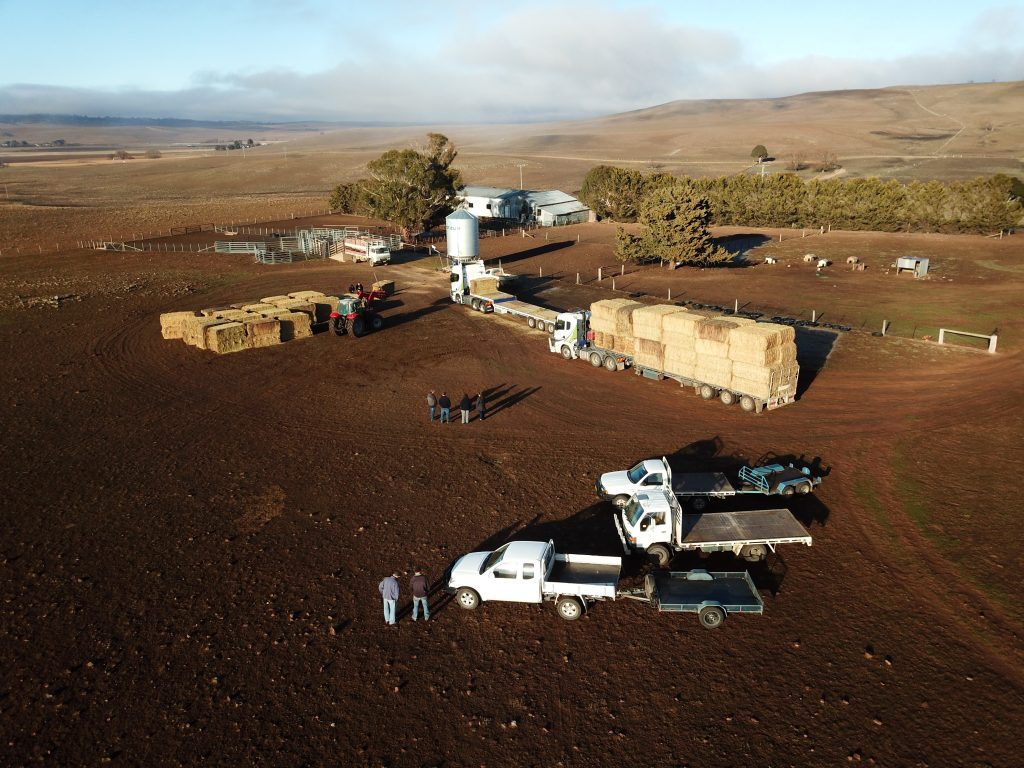 RURAL AID ROAD TRAINS TRAVEL THE LENGTH OF NSW TO DELIVER HAY THIS WEEK
Rural Aid road trains will head from border to border in NSW this week delivering nearly 1000 hay bales to eight farming communities.
Covering the length of the state, Rural Aid will travel thousands of kilometres this week from the Northern Tablelands to the Snowy Mountains to provide over 60 farmers with fodder, CEO John Warlters said.
Primary producers in tiny towns betweenTenterfield and the Queensland border will be the recipients of Rural Aid's hay drops early this week with deliveries scheduled to Tabulam, Legume, Woodenbong, Upper Tooloom, Cullendore and Rukenvale.
"Six road trains will deliver approximately 170 tonne of hay to around 30 farmers over four days to those six locations, distributing 461 bales," Mr Warlters said.
"From there, we'll head west to Nullamanna near Inverell and Graman near Warialda to distribute 102 tonnes of hay to 11 farmers who will each receive a portion of the 146 bales.
"The Rural Aid trucks will make their way south in the latter part of the week to the Snowy Mountains and border towns near Victoria to deliver hay to farmers in Delegate, Coolamatong, Nimmitabel and Cooma to farmers who will receive 332 bales."
Last week, 80 farmers shared 955 bales of hay weighing in at nearly 600 tonne in the New South Wales towns of Wilsons Downfall, Boorook, Tenterfield, Byabarra, Bingara, Delungra, Yetman, Dalgety, Jincumbilly; as well as the Queensland towns of Binjour, Elbow Valley, Junabee and Running Creek.
Rural Aid CEO John Warlters said a mix of environmental and economic factors continue to pose problems for primary producers, with the generosity of Rural Aid's donors and sponsors essential to the delivery of fodder to communities finding their feet following bushfires and drought. More recently winter frosts have begun and trade uncertainty brought on by covid-19 is posing an additional challenge for farmers.
"With the same tenacity our farmers show, our team has managed to continue deliveries throughout 2020 to help farmers and rural communities in need – be it drought, bushfire or flood effected," Mr Warlters concluded.
About Rural Aid
Rural Aid is one of Australia's largest rural charities. Well known for the highly successful 'Buy a Bale' campaign, the charity also provides financial assistance, water and counselling to farmers in times of drought, flood or fire. Other initiatives support its vision that farming and rural communities are safeguarded to ensure their sustainability both during and after these natural disasters. Visit www.ruralaid.org.au for further information on these programs and other support for our rural communities. Visit www.ruralaid.org.au/snapshots for Rural Aid's latest assistance statistics.

Media: Lyndsey Douglas 0424 203 935 | media@admin.media.ruralaid.org.au
Spokesperson: Rural Aid CEO John Warlters | 0409 618 641

Follow Rural Aid for updates on:
Rural Aid – FB: @ruralaidaustralia | IG: @ruralaid |IN: Rural Aid Ltd | TW: @ruralaidaust
Buy A Bale – FB: @buyabaleofhay | IG: @buyabale | TW: @buyabale