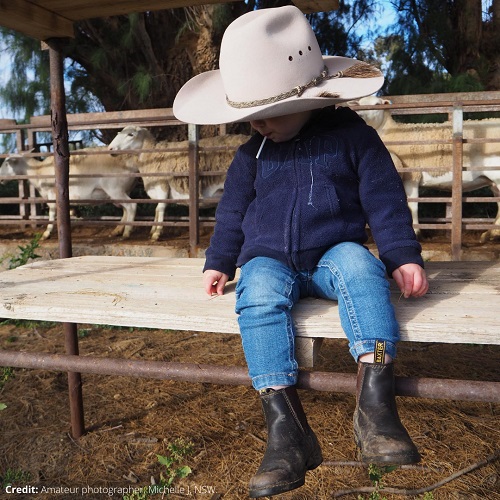 Life on the land or in the bush – competition open until 3 September 2020
Rural Aid is calling all photographers for their inaugural photo competition.
Rural Aid CEO John Warlters said if you are a photographer or a budding photographer and you have a love for rural Australia, then this is the competition for you.
"We want to see images, ground level or aerial, of our Aussie farmers and their families and a depiction of what their life is like on the land or in the bush," John Warlters said.
"Australia is a large country and we have many types of farmers across this land and on our oceans. Livestock from cattle to bees, different types of grain growers, fruit and vegetables, grapes for our wine growers and seafood – farmed inland and on the ocean.
"These farmers are there supporting Australians with food on our tables and add substantially to our gross domestic product in the good times and continue to work hard during challenging times, such as drought, flood and fire.
"Our farmers have been through so much and these images will also be a great way to show how they are faring in these challenging times. Of course, we're also looking to support photographers across Australia who are also facing challenging times.
"If you need inspiration, then check out our Facebook @ruralaidaustralia and Instagram @ruralaid social media pages, they are full of great images of rural Australia and the farmers Rural Aid supports, who support us.
"As well as giving the world a snapshot of farming life, the land and the bush in Australia, this competition is also a great way of showing off the photographic talent posting to our social media channels. The added incentive is there are also great prizes to be won."
Prizes:
1st Prize will receive gift cards to the value of $500
2nd Prize will receive gift cards to the value of $250
3rd Prize will receive a Rural Aid prize pack to the value of $100
People's Choice Winner will receive a Rural Aid prize pack to the value of $100
Here's how to enter:
The competition will run from 5pm AEST, Monday 10 August to 5pm AEST, Thursday 3 September 2020.
Entrants must submit a high-resolution image by either:

posting the image on Instagram with the hashtags #RAPhotoContest & #SpiritoftheBush and tagging @ruralaid in the picture or
Photos will then be added to stories and a highlight reel on the Rural Aid Instagram page.
About Rural Aid
Rural Aid is one of Australia's largest rural charities. Well known for the highly successful 'Buy a Bale' campaign, the charity also provides financial assistance, water and counselling to farmers in times of drought, flood or fire. Other initiatives support its vision that farming and rural communities are safeguarded to ensure their sustainability both during and after these natural disasters. Visit www.ruralaid.org.au for further information on these programs and other support for our rural communities.
Media: 0447 116 757 | media@admin.media.ruralaid.org.au
Spokesperson: Rural Aid CEO John Warlters | 0409 618 641
Follow Rural Aid for updates on:
Rural Aid – FB: @ruralaidaustralia | IG: @ruralaid |IN: Rural Aid Ltd | TW: @ruralaidaust
Buy A Bale – FB: @buyabaleofhay | IG: @buyabale | TW: @buyabale