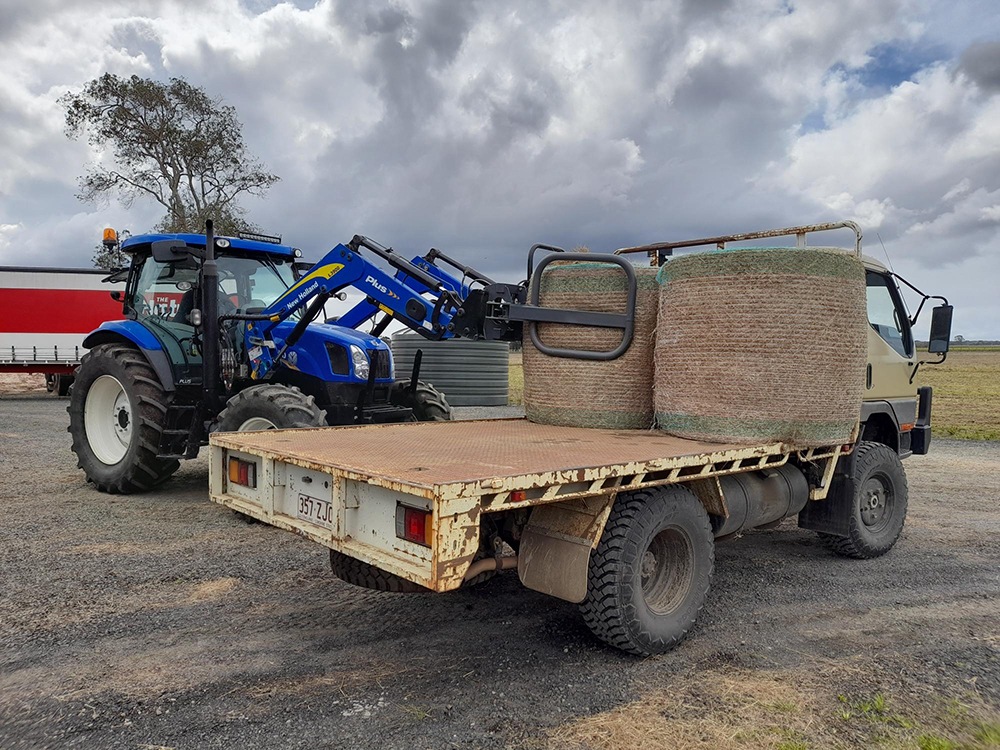 A dozen Northern Rivers farmers have collected more than 30 tonnes of hay, in a boost to their flood recovery efforts.
More than 120 bales of hay were today distributed to Northern Rivers farmers at the Buckendoon event.
Rural Aid CEO John Warlters said the hay drop gave farmers more than just stock feed.
"Our hay drops are a chance for farmers to take a break off their place, have a cuppa and catch up with their mates," Mr Warlters said.
"Recovering from floods is a long, tough and sometimes lonely road. Rural Aid is proud to stand with farmers as they navigate their recovery."
Lismore region farmer Jason Rhodes said this year is the wettest he's ever seen on his property.
"We just had another weekend of rain, so it's miserable," Mr Rhodes said.
"It's so waterlogged that water has just got nowhere to go."
The Braham cattle breeder described Rural Aid's assistance as a 'godsend'.
"We've never had to feed our cattle hay before this, so that's saying something," Mr Rhodes said.
Also in attendance at today's hay drop was Shadow Minister for Agriculture and Regional New South Wales, Mick Veitch.
"I am grateful that Mr Veitch was able to spend the day listening to our farmers who've been on the front-line of these floods," Mr Warlters said.
"We know how important it is for farmers to have their stories listened to first-hand, and for politicians to understand that recovery takes time and is not one-paced."
In addition to hay drops, Rural Aid has also been assisting farmers in the Northern Rivers region with pre-paid visa cards, water tanks, water deliveries and free counselling.
Primary producers are encouraged to reach out to Rural Aid for assistance.
Farmers can register at www.ruralaid.org.au.
About Rural Aid
Rural Aid is Australia's most trusted rural charity. We stand with our farmers when they need us most. Rural Aid provides critical support to farmers affected by natural disaster through financial, wellbeing and fodder assistance. Rural Aid's community programs help create more sustainable communities by building stronger futures for all Australian farmers. Find out more at www.ruralaid.org.au
For more information or interviews, contact Rural Aid media on media@ruralaid.org.au or 0447 116 757.