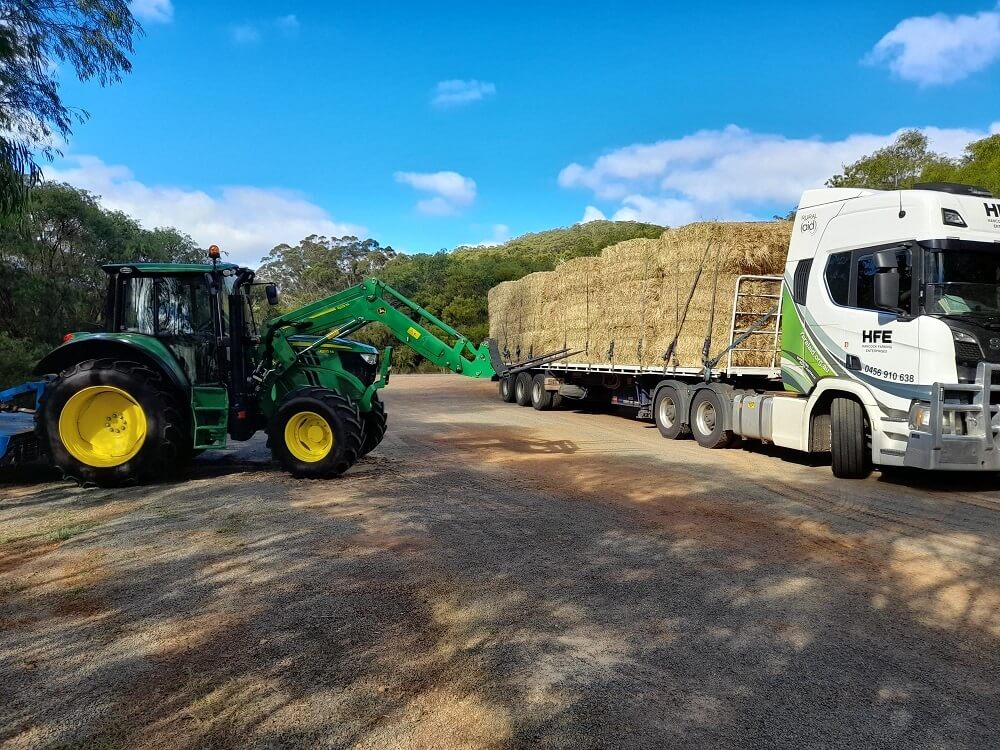 Australia's most trusted rural charity has delivered 74 bales of hay to bushfire-affected farmers in West Australia's Great Southern region.   Thousands of hectares were damaged in long-burning blazes that first started sweeping the region in February 2022.  On Wednesday, 45 tonnes of hay was delivered to Denmark, to be shared between five farmers.    It was the first Rural Aid hay drop into West Australia since 2019.  Rural Aid counsellor and community representative in the Wagin area, Roger Hitchcock, said the bushfires continued to smoulder for up to two months.  "The bushfires were horrendous, and saw countless sheds, paddocks and livestock destroyed," Mr Hitchcock said.   "The road to recovery is long and hard. Many of these farmers have been handfeeding their cows and calves, as any green grass has been eaten down quickly."  "It's going to be a pretty long winter. Rural Aid is proud to be able to take some worry away from our farmers, even if it's just covering their week's stockfeed," Mr Hitchcock said.   Rural Aid is encouraging primary producers to register with the charity, and to request fodder if needed.  "Rural Aid provides a range of services such as financial assistance, fodder support, volunteer access and free counselling sessions," Mr Hitchcock said.   "It's worth registering with Rural Aid even in a good season; it's one less thing to worry about if you find yourself in a tight spot."  Farmers can register at www.ruralaid.org.au or by calling 1300 327 624.    

About Rural Aid 

Rural Aid is Australia's most trusted rural charity. We stand with our farmers when they need us most. Rural Aid provides critical support to farmers affected by natural disaster through financial, wellbeing and fodder assistance. Rural Aid's community programs help create more sustainable communities by building stronger futures for all Australian farmers. Find out more at www.ruralaid.org.au 
  For more information or interviews, contact Rural Aid media on media@ruralaid.org.au or 0447 116 757.