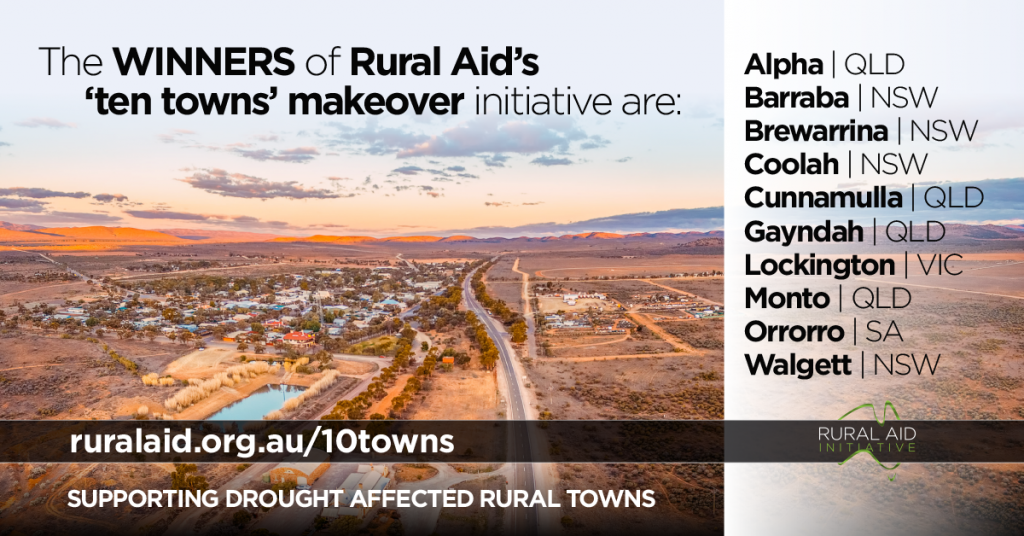 Supporting small rural communities impacted by drought
Alpha, Monto, Cunnamulla and Gayndah are the Queensland winners of Rural Aid's inaugural Ten Town Makeover initiative which aims to highlight the impact of one of the worst droughts in history on small country towns.
Established within Rural Aid's Sustainable Community program, the 10 country towns will receive a minimum of $100,000 commitment to support the makeover of the towns over a five-year period.
The $100,000 includes:
$10,000 for town leaders to workshop with experts in rural/regional town renewal with the aim of developing a long-term renewal strategy. These facilitated workshops will support the long-term sustainability of the town and local community.
$90,000 will be spent on materials for maintenance projects identified by the town leaders, that fits within our scope of work. If available, materials will be sourced locally to support local businesses.
Rural Aid's Farm Army of volunteers (usually between 50 – 100) will spend a week in the town in the first year bringing a welcome financial injection to the town's local businesses. Our support over the remaining years will be determined by the leaders of the town once the plans for the town have been developed.
Amy Palmer from Cunnamulla said, "I was so shocked and then so excited to hear that we had been a successful applicant. I think I was a little bit incoherent for a few seconds. Then a feeling of relief mixed with my excitement because someone was coming to help breathe new life into our town and show society where we are struggling to keep our committee going. I felt like this was an exciting new chapter for us and just couldn't believe we were so lucky."
"Also, to our own community who love where they live and are proud to be battling these tough times together. I believe it will bring hope, even though the drought is continuous and heartbreaking, we will continue to thrive and find new ways to keep our spirit alive."
Alpha's Queensland Police Sergeant, Brian Smith said, "As a community, we were overwhelmed to hear that our town was fortunate enough to be selected. We are a rural town who, like many other small rural towns, have been hit with many years of drought and the hardships that are associated with them. The money will boost spirits to the revitalisation of an asset within our community."
We are hoping the Ten Towns will help us develop our small community to provide tourism opportunities, wellbeing and a place the community, as a whole, can come together with families and loved ones," Sgt Brian Smith said.
Carly Baker-Burnham from Monto said, "When Tracy from Rural Aid called, I had to sit down. It was a feeling of brief disbelief, followed by absolute joy and elation. The feeling of hope rose from my stomach to my heart. Monto is so grateful for this opportunity, it will bring such a buzz of energy and positivity. We really need it, like most communities in rural Australia. We are one of lucky ones!"
"We hope and we know that the Ten Towns Initiative will bring the community together to reimagine Monto. We will be reminded of what it means to be part of a fabulous community. Rural Aid will inject money, time and love into our little humble town and our community will blossom," Carly Baker-Burnham said.
North Burnett Regional Councillor John Zahl from Gayndah said, "I am a little stunned and overwhelmed. This is a great sense of achievement that yes, we have been selected, and that there is someone, somewhere else, who does care not only for our town and community but others in the same boat. I feel very privileged and fortunate – a great thrill, and personally, a degree of pride in being able to help our great town."
"Probably most importantly, the effect that this endeavour will have on the mental wellbeing of our community – the very positive effect – the mere attendance of Rural Aid and its support will lift spirits and re-enforce belief that others care. The works and presence will be long lasting. This is not just a quick short visit, but a long-term engagement with Gayndah and is ongoing and help keep us on the map. This will be a great opportunity to engage our community in planning our future."
CEO of Rural Aid, Charles Alder says, "While the focus is largely on the impact of the drought on farmers and their families, equal attention should be given to the impact on rural communities. Small country towns play a critical role in supporting the social and economic fabric of their local communities. This initiative will lift morale and inject much needed capital into the local community
"Small towns have a unique symbiotic relationship with the farms located around them. Farmers rely on their local town for off farm income through employment, farm employees and services from the local doctor, teachers, dentists, accountants and government support staff. Then there's the small businesses like the local pharmacy, grocery, butcher, bakery, bank and rural supply company. Take these towns out of the equation and the local ecosystem is impacted forever."
We received over 60 applications and every one of the unsuccessful towns will be supported by Rural Aid in the future.
QLD Town Contacts:
Alpha – Brian Smith,0437741940
Cunnumulla – Amy Palmer,0438730180
Gayndha – John Zahl,0458625005
Monto – Carly Baker-Burnham,0427675115
The winners from other states include: NSW – Walgett, Coolah, Brewarrina and Barraba, SA – Orroroo, Victoria – Lockington.
For more information go to: www.ruralaid.org.au
About Rural Aid
Rural Aid supports farmers and rural communities in times of natural disaster such as flood, fire and drought. In addition, Rural Aid focusses on supporting the sustainability of regional and farming communities. Its disaster relief program includes the nationally recognised Buy a Bale campaign. Other programs include providing volunteer support to rural towns, musical instruments to regional schools and mental health counselling. Visit www.ruralaid.org.au for further information on these programs and other support for our rural communities.
Media enquiries: Raylee Huggett – 0447 116 757