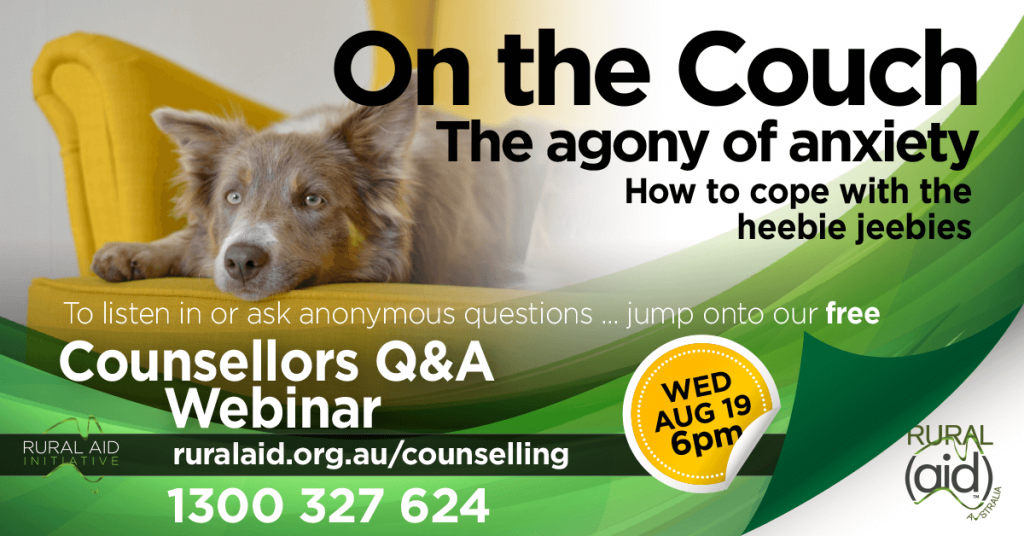 Rural Aid webinar series allows farming families to connect with counsellors
Rural Aid has today announced the August theme for its regular primary producer webinar where skilled counsellors present on timely topics affecting farmers and rural communities.
'On The Couch with Rural Aid Counsellors' is a webinar series tackling key topics and themes related to farmer welfare and life on the land.
This month, on Wednesday 19 August, Hunter Valley based counsellor Gary Bentley will host a session at 6pm AEST on anxiety. The theme of the session is "The agony of anxiety; how to cope with the heebie jeebies".
Gary will discuss the meaning of anxiety, the causes, signs, and symptoms before relaying information on management, treatment, acceptance and survival.
This session is for primary producers, country families and rural counsellors, Rural Aid CEO John Warlters said.
"With the sheer volume of factors influencing a farmer day in day out, anxiety is not uncommon in agricultural industries and rural communities, yet little is understood about it by those populations," Mr Warlters said.
"Gary's session will be a two-way conversation, where attendees can privately direct questions to our highly skilled and qualified rural counsellors."
In September, Darling Downs based counsellor Jane McCollum will host a session at 6pm on the 16th on "fixing fences" about setting personal boundaries.
In October, Central West based counsellor Zoe Cox will host a session at 6pm on the 14th on partnerships and conflict in times of stress.
"Stressful circumstances on the land can have an impact on marriages and relationships. In this session, Zoe will provide some useful tactics for language, communication, improving connection and unity," Mr Warlters explained.
John Warlters said primary producers, farming families and rural counsellors are encouraged to register for the 60 minute live sessions at https://www.ruralaid.org.au/counselling/
END
About Rural Aid
Rural Aid is one of Australia's largest rural charities. Well known for the highly successful 'Buy a Bale' campaign, the charity also provides financial assistance, water and counselling to farmers in times of drought, flood or fire. Other initiatives support its vision that farming and rural communities are safeguarded to ensure their sustainability both during and after these natural disasters. Visit www.ruralaid.org.au for further information on these programs and other support for our rural communities.
Media: 0447 116 757 | media@admin.media.ruralaid.org.au
Spokesperson: Rural Aid CEO John Warlters | 0409 618 641
Follow Rural Aid for updates on:
Rural Aid – FB: @ruralaidaustralia | IG: @ruralaid |IN: Rural Aid Ltd | TW: @ruralaidaust
Buy A Bale – FB: @buyabaleofhay | IG: @buyabale | TW: @buyabale