MONTO QLD READY FOR RURAL AID'S OUR TOWNS MAKEOVER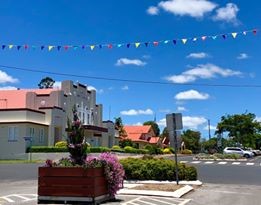 Plans finalised and Rural Aid's Community and Farm volunteers are on their way to Monto
Monto Queensland community members are ready for an invasion that they are welcoming and have planned for since January this year.
Rural Aid and their army of 47 Community and Farm Volunteers will arrive in town from 30 August to 5 September armed with tools, an enthusiastic willingness to help and smiles ready, bringing Monto's projects to fruition while also bringing a welcoming financial injection.
Rural Aid CEO John Warlters said it has been a long road and wait since October last year when Monto was announced as one of the winners of the Our Towns makeovers.
"These long-term renewal projects have been made possible thanks to the generosity of our volunteers in giving their time and expertise for such a great cause; as well as the remarkable Monto community. Monto's community has worked hard, coming up with ideas and forming those ideas into a plan for their vison of their future."
Monto's vision is of a vibrant, family friendly and safe community, embracing traditions and contemporary practices in order to create progressive and community driven action for all generations to live, work, play and age well.
"Our thanks also go out to Evolution Mining for their generous $100,000 donation to support community activities across multiple years," John Warlters said. "Many of their employees and their families live in rural towns in the area and their community will benefit from the work being done, the financial injection and most importantly, the community coming together for their town's future.
"I would also like to thank Ergon Energy Network for adding their generous support to the Our Towns initiative, with Monto being the second after their support of Gayndah, last month.
"Rural Aid Community Builders Series webinar sponsors, Bushells is also sponsoring town community meetings, such as Our Towns, and will be providing much needed cuppas in Monto.
"Rural Aid was also in the Monto area on 21 August delivering 60 bales of much needed fodder (hay) to four farmers," John Warlters said.
The Our Towns Makeover initiative is Rural Aid's way of supporting small rural communities.
Further Information:
Monto Community Projects
The Monto community have identified the projects for the Farm and Community Volunteers to work on over the week to help give the town a much-needed start to their long-term renewal.
Planting and staking 30 Mount Ash trees in the recreational area behind the railway precinct
Lister Street Art Walk – oil the information hut and bridge and paint the ablution block
Laneway Community Garden/Walk –
Main Street of Monto – create landscape spaces and planter boxes, and install park benches and herb garden
Showgrounds – paint the show ring and ticket booth, refresh the buildings as well as repair and maintenance
Sports complex in Thomson Street – repair and paint the cricket oval fence and paint the internal doors of the old hospital.
Mungungo Hall – remove and replace old cladding, paint the new cladding, repair front and partial north wall and fixtures, and rear balustrade to ablution block
Mulglidie Hall and Fairweather's Park – tidy and prune gardens and exterior ground as well as repaint Frank Fairweather's memorial.
Three farms in the Monto area will also receive much needed makeovers.


About Monto
The Monto District is situated approximately 200 kilometres west of the coastal cities of Bundaberg and Rockhampton, and 477 km north west from Brisbane.
Established in 1924, Monto was the first town in Queensland built utilising a town plan.
The District comprises the key agricultural service town of Monto, and a set of five attractive villages: namely Mungungo, Mulgildie, Bancroft, Kalpowar and Moonford.
Prior to European settlement, Monto and surrounding area was home to people the Gooreng, Wakka & Willi Aboriginal language groups.
The town takes its name from its railway station, which in turn is an Aboriginal word meaning ridgy plain.
Much of Monto's historical buildings were built in Art Deco style, including the town hall.
Local attractions include but are not limited to:

Cania George National Park (22,000-hectare park) and Cania Dam- strong aboriginal presence dating back 19,000 years

Kroombit Tops National Park

Wuruma Dam; Walking trails & tours, 4WD self-drive tours

Coominglah State Forest (lookout); Kalpowar State Forest and much more

Legendary Mulgildie Bunyip Hole and Sculpture Monto & district art and mural trail.
About Out Towns initiative
Over the next five years, each of the Our Towns will receive $100,000 in projects and support to renew their town. This includes $10,000 allocated for the community to workshop with community change and renewal experts on their ideas for their town's long-term future and sustainability. The $90,000 will be spent, over five years, on materials for maintenance projects identified by the community, that fits within Rural Aid's scope of work. If available, materials and trade expertise will be sourced locally to support local businesses.
Media enquiries: Raylee Huggett – 0447 116 757 | media@admin.media.ruralaid.org.au
Media spokespersons: Rural Aid CEO John Warlters – 0409 618 641
About Rural Aid
Rural Aid is one of Australia's largest rural charities. Well known for the highly successful 'Buy a Bale' campaign, the charity also provides financial assistance, water and counselling to farmers in times of drought, flood or fire. Other initiatives support its vision that farming and rural communities are safeguarded to ensure their sustainability both during and after these natural disasters. Visit www.ruralaid.org.au for further information on these programs and other support for our rural communities.
Visit www.ruralaid.org.au/snapshots for Rural Aid's latest assistance statistics.
Follow Rural Aid for updates on:
FB: @ruralaidaustralia | @buyabaleofhay
IN: Rural Aid Ltd
TW: @ruralaidaust | @buyabale