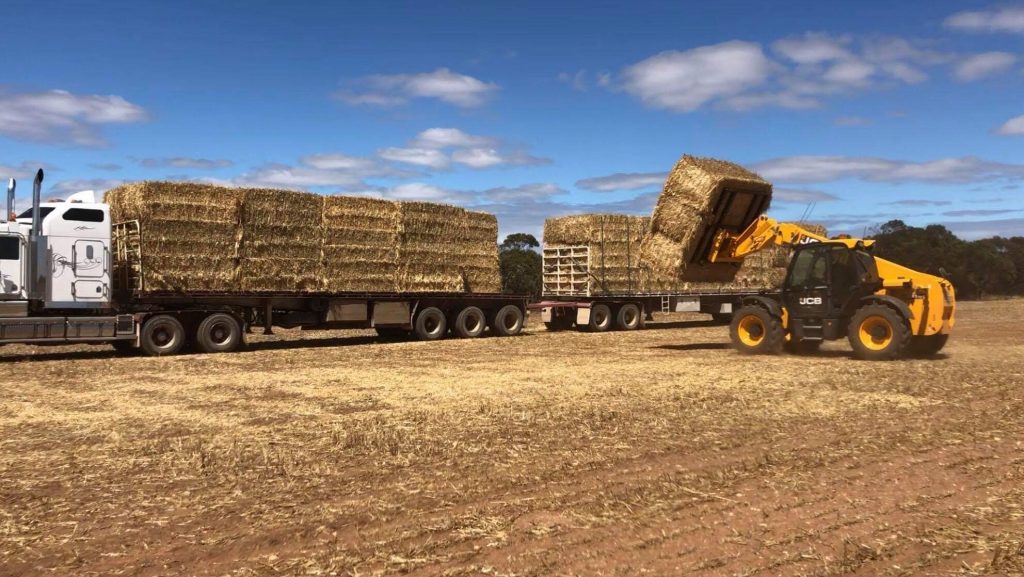 18.02.2020
WHAT: Rural Aid with APT Travel Group to deliver approximately 326 hay bales to Jingellic, NSW farmers
WHERE: Sylvandale, 277 Jingellic Road, Jingellic NSW 2642
WHO TO: 27 local Jingellic farmers
DATE: Wednesday, 19 February 2020
TIME: All trucks to arrive prior to 10am – four tractors will start unloading
CONTACT: Communication and Media – Raylee Huggett 0447 116 757
ON-SITE CONTACT:
Nicole Whelan – Rural Aid Business Development Manager Victoria – 0408 593 348
Craig James – One Tomorrow Charitable Fund (APT Travel Group) – 0423 121 711
Five road trains loaded with approximately 326 bales of hay, valued at $75,000, will roll into Jingellic on Wednesday, 19 February, bringing relief to 27 local farmers.
The Jingellic hay drop is thanks to the generosity of the APT Travel Group and their agents at Focus Travel Vietnam and Focus Travel Cambodia.
In 2019, APT Travel Group, through their One Tomorrow Charitable Fund Foundation, raised over $50,000 through donations and workplace giving for our Aussie farmers.
Added to this, when APT Travel Group's agents, Focus Travel – based in Vietnam and Cambodia – heard of the devastation caused by the Australian bushfires, they also rallied to help their regional neighbours.
Focus Travel Vietnam and Cambodia employees and their industry contacts raised $3500 to assist our Aussie farmers impacted by bushfires.
Rural Aid's Business Development Manager in Victoria, Nicole Whelan thanked APT Travel Group, their One Tomorrow Charitable Fund and Focus Travel Vietnam and Cambodia for their generosity in supporting our Aussie farmers experiencing hardship caused by our natural disasters.
"APT Travel Group have been a great support to Rural Aid and our Aussie farmers through their generous donation and their employees stepping up to volunteer at the recent Hay Mate concert held in Victoria," Nicole Whelan said. "I look forward to continuing this relationship with them in whatever capacity they decide to assist our Aussie farmers and their communities impacted by drought, fire and in some areas – flood."
Focus Travel Vietnam and Cambodia have been agents for APT Travel Group for over 10 years and many Australian travellers have utilised their expertise when travelling in South East Asia.
"Their Australian bushfire relief story, below, is a wonderful story of empathy and generosity towards a nation experiencing hardship caused by natural disasters," Nicole Whelan said. "A nation that has supported Vietnam and Cambodia through tourism and many other avenues, which is now being supported in return."
Rural Aid Counsellor, Glenda Carter, will also be attending the APT Travel Group hay drop at Jingellic.
OneTomorrow Vietnam & Cambodia Bushfire Relief Story
"When you eat the fruit, be grateful to the planter." Popular Vietnamese proverb.
In the wake of disaster, hope can spring from the most unexpected of places.
2019 saw the beginnings of Australia's worst bushfire season to date with fires burning well into the new year. The devastation rallied Australians to raise money to support those affected by the natural disaster, as well as emergency services and volunteer organisations.
This compassion extended beyond our borders, to our friends over in Vietnam and Cambodia. Those who, while not directly affected by the fires, felt the nation's pain as though it was their own.
Donations were raised by the staff at Focus Travel Vietnam and Focus Travel Cambodia, as well as current and former Tour Directors and local guides in these countries. Together, the Vietnam and Cambodia team raised an incredible $3500 AUD.
Special mentions must be made of Focus Travel Cambodia, who responded instantly to the cause. Also, to Focus Travel Vietnam's director Minh and employee Nhan, who were the driving forces behind the wonderful effort made by the Vietnam office.
When asked, staff of Focus Travel Vietnam were emphatic that this was all Nhan's initiative. From a young age, Nhan has lived by the popular Vietnamese proverb, "When you eat the fruit, be grateful to the planter." It's all about a mindful way of living with gratitude. Now, as a mother of two, Nhan's philanthropic ethos is mirrored by her two children. Often, Nhan and her sons visit children's centres to show their support for kids in need.
Described as having a heart "as big as a whale", upon seeing much of Australia in a state of emergency and holding a deep appreciation for APT Travel Group (ATG) as her employer, Nhan felt she had to help. So, after mobilising her colleagues and inspiring Minh, Nhan was able to pull together an impressive portion of the overall donation.
Minh made the largest contribution on behalf of Focus Travel Vietnam, by pledging to triple all donations raised by the Vietnam office. Minh will be in the Melbourne ATG office on 17th February to personally hand in the money raised by the Cambodia and Vietnam offices.
Our gratitude towards Nhan and our friends over in Vietnam and Cambodia cannot be expressed enough. Generosity shown by those who, despite their circumstances and the oceans of distance between them and the bushfires, still rallied together for a country in crisis and opened their hearts.
About Rural Aid
Rural Aid is one of Australia's largest rural charities. Well known for the highly successful 'Buy a Bale' campaign, the charity also provides financial assistance, water and counselling to farmers in times of drought, flood or fire. Other initiatives support its vision that farming and rural communities are safeguarded to ensure their sustainability both during and after these natural disasters. Visit www.ruralaid.org.au for further information on these programs and other support for our rural communities.
Visit www.ruralaid.org.au/snapshots for Rural Aid's latest assistance statistics.
Follow Rural Aid for updates on:
FB: @ruralaidaustralia | @buyabaleofhay
IN: Rural Aid Ltd
TW: @ruralaidaust | @buyabale