It's a big week for Australia -dancing, singing and partying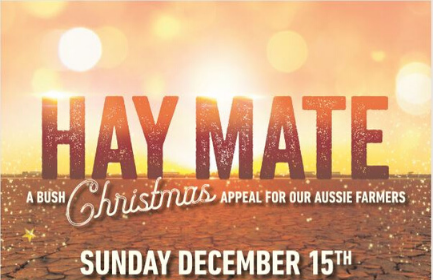 Can you help us make it RAIN! Make sure you pay close attention because these are the rain-bringing, drought-busting, all-fun, hip-twisting, booty-shaking moves you need to learn for the Bust The Dust Raindance. See the video link here and below
On the 13th of December at 1PM, St John's Parish School Trangie NSW are inviting all Australians to stop and dance, in the workplace, at school, at the supermarkert, on the street, at home, at the airport, on the waves, at the beach, on the farm, even on TV! You know what we mean? We mean EVERYWHERE Australia. Come on let's do it, bust a move and help them. Register here your School / Business / Workplace here and share.
Don't miss out on the event of the year, as we take on Melbourne with some of Australia's biggest rock legends on the 15th December!
John Farnham is leading a cast of Aussie entertainers to raise important funds and awareness for our farmers and rural communities this Christmas. The concert will feature:
JOHN FARNHAM WITH ALL MY EXES LIVE IN TEXAS, VANESSA AMOROSI, DARYL BRAITHWAITE, THE BLACK SORROWS WITH VIKA & LINDA, JON STEVENS, JOHN WILLIAMSON AND TIM WHEATLEY & LITTLE GEORGIA
Donations from this massive Sunday event will go to our disaster relief program to purchase hay, and provide water and financial assistance for fire and drought affected farmers.
There's still time to buy tickets to our major bush Christmas appeal. Just head to www.haymate.org.au to buy your tickets today!
Can't make the concert? No problem, you can still join the fun by tuning in to Channel 9 between 8-10.30pm to watch the concert and live telethon.
And why not make it a special event by hosting a #HayMateHangout with your friends and family! We've prepared some fun activities like Spotify lists, karaoke games and Hay Mate Hangout Bunting so that you have everything you need for your event. Check it out below.
Check out this exclusive interview with John Farnham as he vows to help drought-affected farmers this Christmas