Inverell locals find connection after drought, pandemic at new community day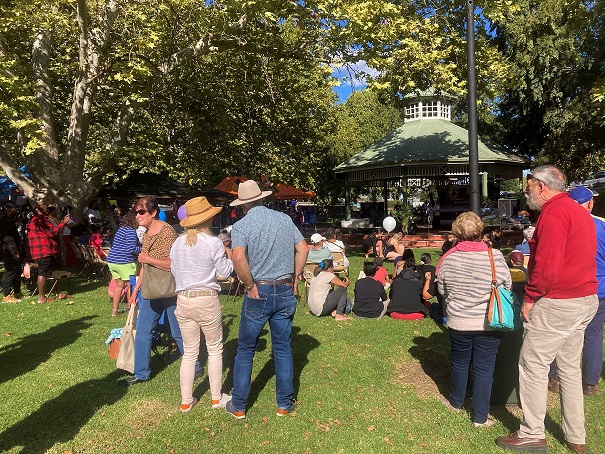 The Northern Tablelands celebrated its achievements at the inaugural Inverell Connection Day on Saturday. 
Hundreds of people turned out to the hugely popular Campbell St Park event.  
Jointly organised by Rural Aid, Pathfinders and the Inverell Community Collaborative, the Connection Day was a chance for locals to reconnect after recent hardship.  
Rural Aid's counsellor and community representative for the Northern Tablelands, Heidi Gray, said it's been a testing few years for the region. 
"Our community has been so brave through the horrific drought and the grueling pandemic," Ms Gray said.  
"We had to stay isolated and busy to get through. But we haven't really had a chance since to get together and reflect on how far we've come.  
"The value of social connection cannot be underestimated. It was wonderful to see locals laughing, chatting and even singing and dancing this weekend at the Connection Day." 
Dozens of community clubs, service providers and businesses attended the Connection Day, signing up locals and making valuable referrals.  
Ms Gray labelled the day a success and said the Community Collaborative has already started to look at holding the event again next year.  
"It was fantastic to see our town embrace this new day so wholeheartedly, we were blown away by how many people attended. Thank you to every stallholder and every attendee for showing up and being a part of the community," Ms Gray said. 
"And a huge thanks to Essential Energy for coming on board as a major sponsor. We're also extremely grateful for the NSW Government, Healthwise and Boss Engineering for additional funding that supported the day," Ms Gray finished.  
 
About Rural Aid 
Rural Aid is Australia's most trusted rural charity. We stand with our farmers when they need us most. Rural Aid provides critical support to farmers affected by natural disaster through financial, wellbeing and fodder assistance. Rural Aid's community programs help create more sustainable communities by building stronger futures for all Australian farmers. Find out more at www.ruralaid.org.au 
 
Vision and pictures from the Inverell Connection Day can be found here: https://www.dropbox.com/sh/udtfq4cc0edmopn/AACe_XbfzTT0cd6xQdG5zlmCa?dl=0  
 
For more information or interviews, contact Rural Aid media on media@ruralaid.org.au or 0447 116 757.