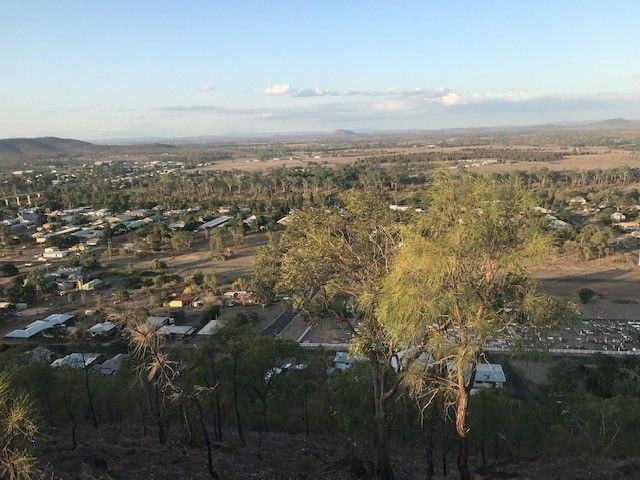 Plans finalised and 60 Rural Aid Farm Army volunteers are on their way to Gayndah
The workshop is done, plans are completed and 60 Rural Aid Farm Army volunteers are on their way from around Australia to be in Gayndah from 22 to 28 March.
The Farm Army will be in Gayndah to help the community build their long-term sustainability – and Gayndah is ready!
Rural Aid Engaging Community Officer and Co-Founder, Tracy Alder said Gayndah is the first of the 10 towns selected in October last year to start their long-term renewal projects and programs.
"We experienced Gayndah's vision of a 'vibrant friendly community where heritage, growth and lifestyle proudly combine', firsthand at their recent workshops," Tracy said. "Farmers to council to community members came together, formulated concepts and organised different town sectors in preparation to work with us and Bank of IDEAS community change and renewal expert, Peter Kenyon.
"Our 60 Farm Army volunteers will spend a week in the town working with the community, bringing Gayndah's projects to fruition while also bringing a welcoming financial injection and new friendships.
"As well as the 10 Towns Makeovers, additional funding has been made available for Rural Aid's Farm Army to do four farm rescues in each of the areas," Tracy added.
The Gayndah community have identified the projects for Rural Aid's Farm Army to work on over the week to help give the town a much-needed start to their long-term renewal. These include, the Gayndah Race Club, Gayndah Swimming Pool, Gayndah Historical Village, Pioneer Place and Native Botanical Gardens, Gayndah and Binjour Bowls Clubs, playground fencing and the Gayndah Railway Station Complex.
Gayndah to be 'invaded' by another army.
The Australian Army Band – Brisbane – will bring great music talent, workshopping with local schools on Wednesday afternoon. Rural Aid's Gift of Music program will be there too, bringing a whole lot of joy and fun with the donation of musical instruments and Lego to nine schools in the area, all thanks to the support of Evolution Mines.
The community won't miss out. The Show Grounds will come alive on Wednesday night, 25 March as the Army Band – Brisbane rocks the town with traditional Big Band sounds through to funky arrangements of rock hits and Australian music.
Added to this, the Rural Aid Board will be in town on 25 and 26 March to experience the first of the 10 Towns Makeovers and for their March Board meeting. They will also be rocking it with the rest of Gayndah to Wednesday evening's Australian Army Band – Brisbane entertainment.
The 10 Towns Makeover initiative is Rural Aid's way of supporting small rural communities and highlighting the impact the drought is having on them
For more information on the 10 Towns Makeover, go to www.ruralaid.org.au/10towns
Media enquiries: – 0447 116 757 | media@admin.media.ruralaid.org.au
Media spokespersons:
Rural Aid Engaging Community Officer and Co-Founder, Tracy Alder – 0413 618 561
North Burnett Regional Councillor John Zahl from Gayndah – 0458 625 005
Director and Founder Bank of I.D.E.A.S., Peter Kenyon – 0417 183 719
About Rural Aid
Rural Aid is one of Australia's largest rural charities. Well known for the highly successful 'Buy a Bale' campaign, the charity also provides financial assistance, water and counselling to farmers in times of drought, flood or fire. Other initiatives support its vision that farming and rural communities are safeguarded to ensure their sustainability both during and after these natural disasters. Visit www.ruralaid.org.au for further information on these programs and other support for our rural communities.
Visit www.ruralaid.org.au/snapshots for Rural Aid's latest assistance statistics.
Follow Rural Aid for updates on:
Further Information:
About Gayndah
Gayndah was established in 1848 and was in competition to become Queensland's capital up against Ipswich and Brisbane.
Gayndah held its first race meeting in the 1850s, held the first Queensland Derby in 1868 and ran the 150th Derby in 2018.
Gayndah is home to just under 2000 (2016 Census) very community passionate people, is located in Queensland's South Burnett Region and is located 366 kilometres north of Brisbane and 145 kilometres west of Maryborough.
Gayndah is the centre of Queensland's largest citrus-growing area. Agriculture and grazing have also been dominant industries of the area, all of which have declined due to the ongoing drought.
In the community's words: "An enormously passionate community, we work closely together on virtually every venture, we have managed to "hold it" despite the weather – flood and drought.
Gayndah's youth run a great number of its community organisations, with the quiet guidance of the elders.
About the 10 Towns Makeover
Over the next five years, each of the 10 Towns will receive $100,000 in projects and support to renew their town. This includes $10,000 allocated for the community to workshop with community change and renewal experts on their ideas for their town's long-term future and sustainability. The $90,000 will be spent, over five years, on materials for maintenance projects identified by the community, that fits within Rural Aid's scope of work. If available, materials and trade expertise will be sourced locally to support local businesses.