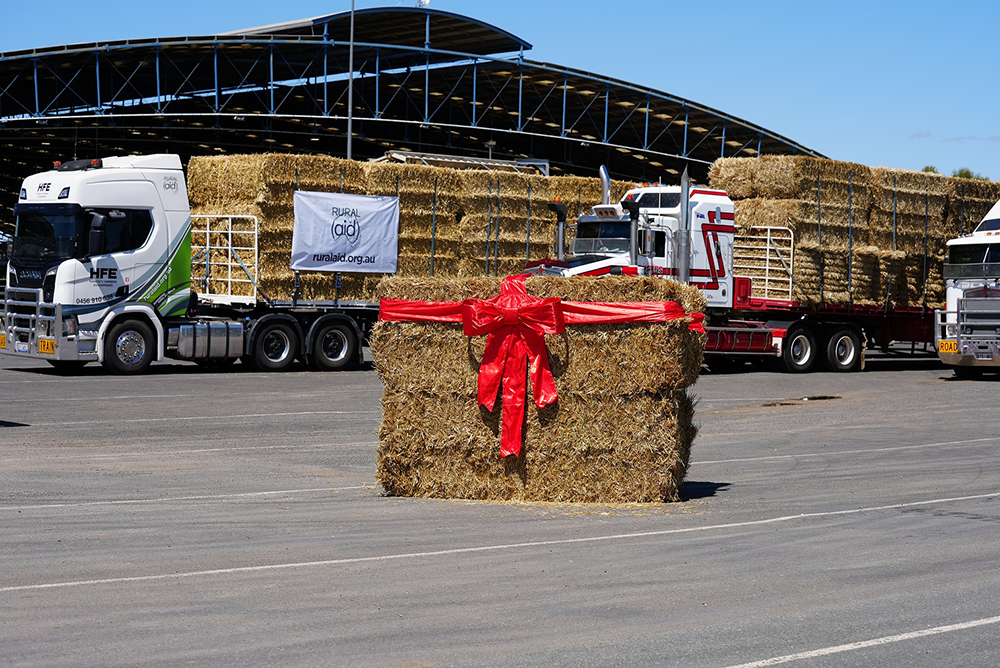 Australia's most trusted rural charity has distributed more than 700 bales of hay to Central West New South Wales farmers, helping to make Christmas a little brighter for flood-affected producers.
A hay drop was held at the Central West Livestock Exchange in Forbes on Friday, December 16.
Ten road trains delivered more than 480 tonnes of hay to the saleyards for Rural Aid's registered primary producers.
Forbes cattle breeder Danielle Beard said her property is still covered in floodwaters and thick layers of mud, smothering any grass underneath.
"75% of our property is under water and we're going to have water on our place for another seven months."
She said the bales of hay were exactly what her family needed to help them recover from the flooding event.
"We're just so grateful for this hay," Ms Beard said.
Rural Aid CEO John Warlters said flood affected farmers are facing a difficult recovery that will last well after Christmas.
"Rural Aid has brought back its Buy a Bale campaign, which was first created in the Millennium Drought, to help raise funds to support farmers impacted by these record-breaking floods," Mr Warlters said.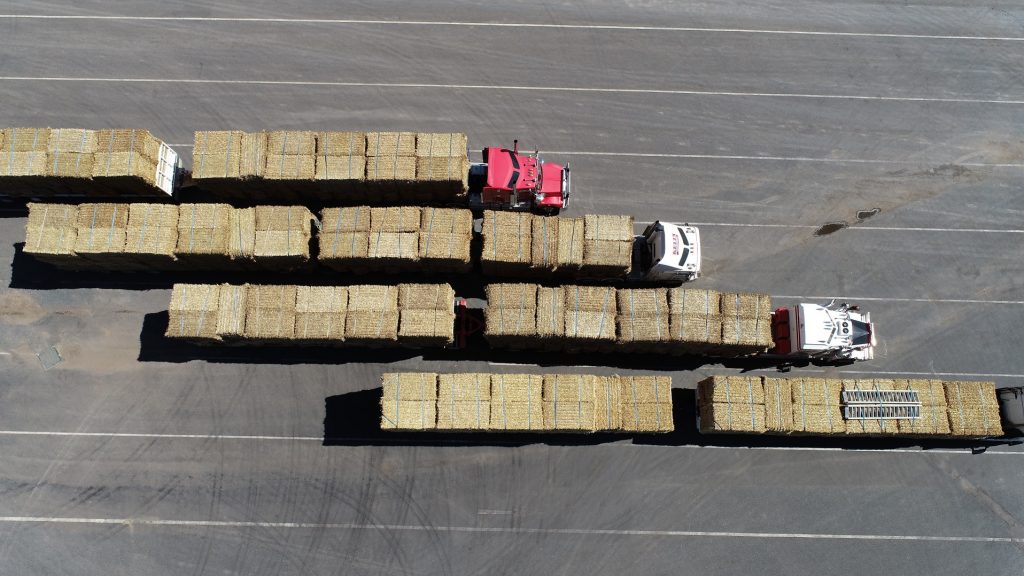 "Rural Aid predicts at least a two to three-year recovery for communities, with the funds required to adequately support farmers and families estimated to be in excess of $50 million.
"We're ready to execute an extensive recovery support program based on a tried and tested approach, but we need as much help as we can get.
"Christmas is going to be an enormously difficult time for thousands of our farming families.
Mr Warlters said Rural Aid is proud to have supported our farmers with two hay deliveries the past week in Rochester, Victoria and Forbes, New South Wales, which have eased some of the burdens facing primary producers.
In addition to hay, Rural Aid has also been providing flood-affected farmers with financial support, counselling, drinking water deliveries and volunteer assistance.
Mr Warlters thanked the Australian public for its generosity in supporting our mates in the bush.
"We've asked Australians to Buy a Bale for Christmas and they've donated generously to improve our farmers' lives," Mr Warlters.
"Rural Aid also been buoyed by the support of businesses like Newcrest Mining's Cadia Valley Operations that donated $150,000 to Rural Aid's flood appeal.
"There is still time to donate to help our farmers this Christmas. Every dollar makes a difference to the lives of the farmers who put food the Christmas food on our table and the clothes on our backs," Mr Warlters finished.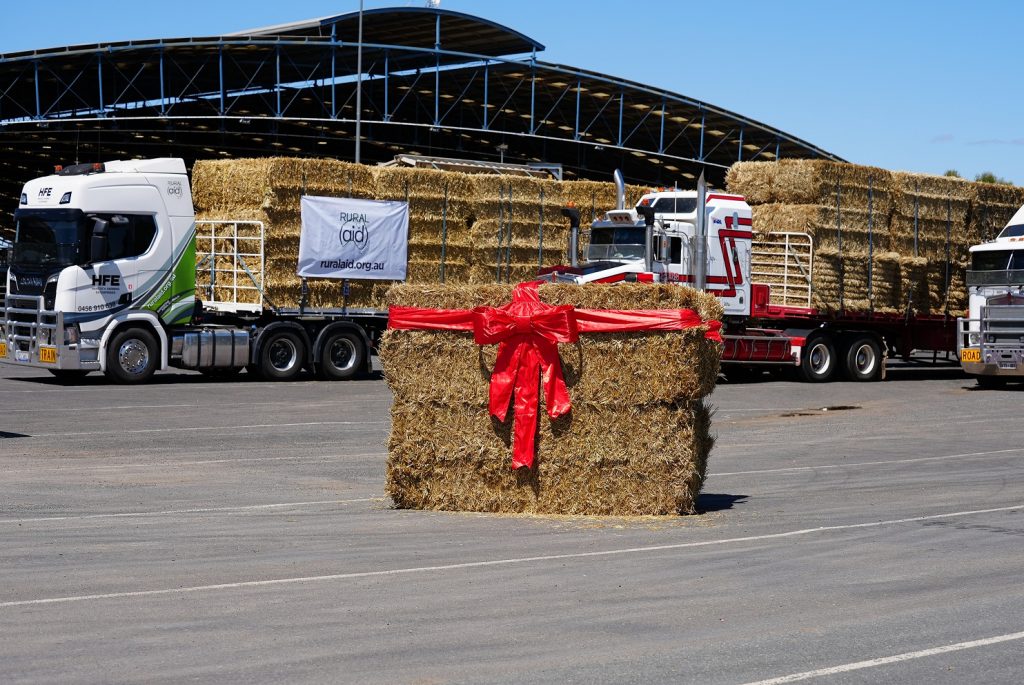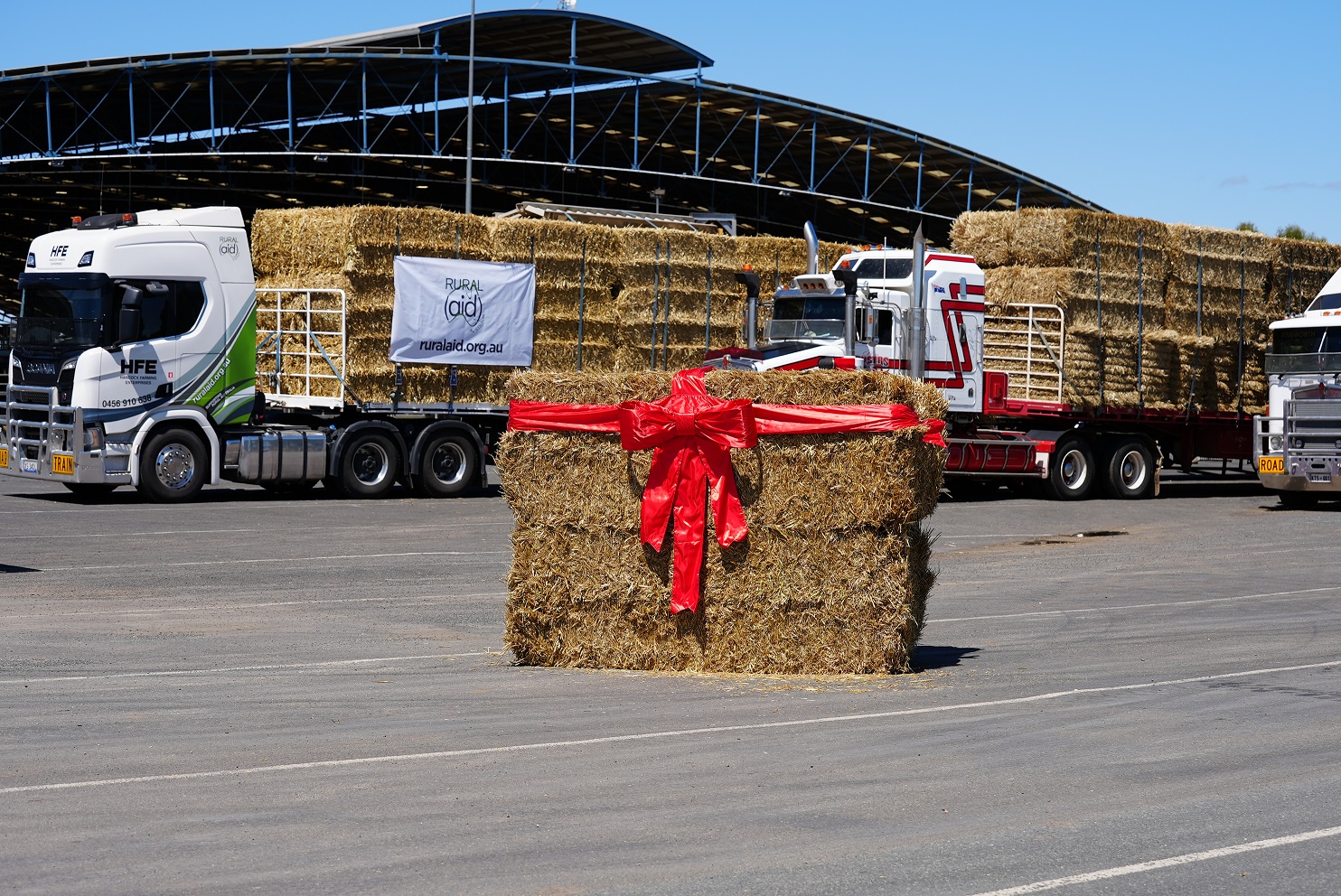 To support Rural Aid or make a donation go to: www.buyabale.com.au
For more information or interviews, contact Rural Aid media on media@ruralaid.org.au or 0447 116 757.

About Rural Aid
Rural Aid is Australia's most trusted rural charity. We stand with our farmers when they need us most. Rural Aid provides critical support to farmers affected by natural disaster through financial, wellbeing and fodder assistance. Rural Aid's community programs help create more sustainable communities by building stronger futures for all Australian farmers. Find out more at www.ruralaid.org.au