FARMERS DISCUSS REPAIRING FIGURATIVE FENCES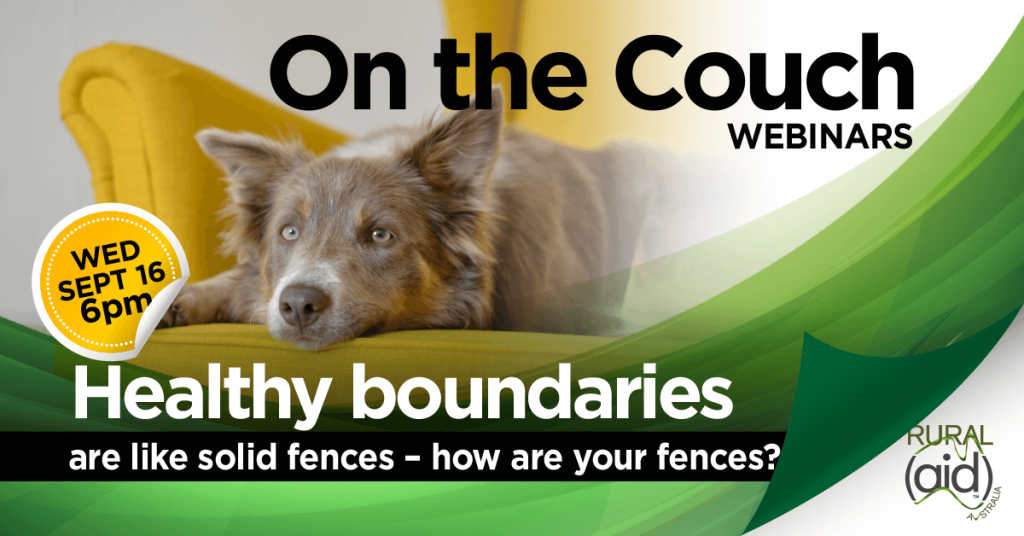 Rural Aid webinar series addresses the importance of boundaries
Rural Aid has today announced the September theme for its regular primary producer webinar, where skilled counsellors present on timely topics affecting farmers and rural communities.
'On The Couch with Rural Aid Counsellors' is a webinar series tackling key topics and themes related to farmer welfare and life on the land.
This month, Darling Downs based counsellor Jane McCollum will host a session at 6pm AEST on Wednesday 16 September on the importance of having healthy boundaries.
The theme of the session is "Healthy boundaries are like solid fences – how are your fences?".
This session is held for primary producers, country families and rural counsellors, Rural Aid CEO John Warlters said.
"Most farmers are very invested in the quality of their fencing; and prioritise rebuilding or replacing boundary fences that are in need of attention. We want to discuss the other boundaries farmers need to look after, the ones that relate to responsibility, relationships, communication, work and the people in their lives," Mr Warlters said.
"Quality fencing and boundaries on the farm are crucial for keeping threats like wild animals out – to an extent – and protecting livestock. We'd suggest that personal boundaries are just as important."
John Warlters said primary producers, farming families and rural counsellors are encouraged to register for the 60 minute live sessions at https://www.ruralaid.org.au/counselling/
END
Media enquiries: 0447 116 757 | media@admin.media.ruralaid.org.au
Media spokespersons: Rural Aid CEO John Warlters – 0409 618 641
About Rural Aid
Rural Aid is one of Australia's largest rural charities. Well known for the highly successful 'Buy a Bale' campaign, the charity also provides financial assistance, water and counselling to farmers in times of drought, flood or fire. Other initiatives support its vision that farming and rural communities are safeguarded to ensure their sustainability both during and after these natural disasters. Visit www.ruralaid.org.au for further information on these programs and other support for our rural communities.
Visit www.ruralaid.org.au/snapshots for Rural Aid's latest assistance statistics.
Follow Rural Aid for updates on:
FB: @ruralaidaustralia | @buyabaleofhay
IN: Rural Aid Ltd
TW: @ruralaidaust | @buyabale